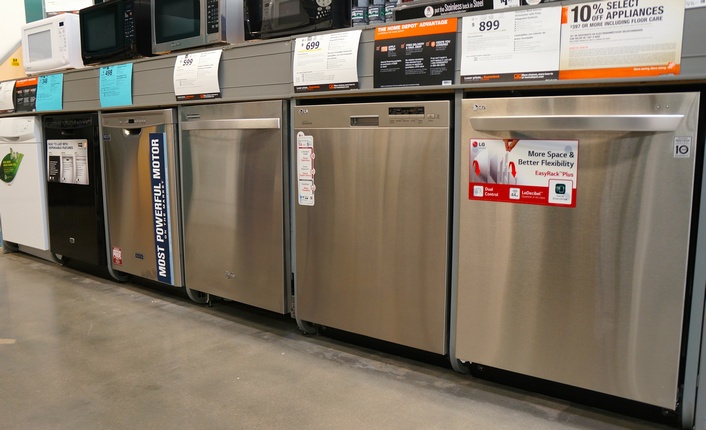 Buying Advice: Dishwashers
How can you choose the best dishwasher for your kitchen? Dishwashers vary greatly in terms of price and features, so it can be difficult to choose the best dishwasher for your home that also fits within your budget. Once you've established about how much you want to spend, it is important to consider the size and layout of your kitchen, as well as how you will be using your machine. For example, if you have a small family or don't entertain very much, your needs will be different than someone with a larger family who entertains a lot. Or, if you have a kitchen that opens into a living area, you might be more concerned about noise levels than someone who has a closed kitchen. Below we've outlined some of the most important aspects to consider when purchasing a new dishwasher. While some of the best deals can be found online, we'd also recommend trying to see a few models in the store to check noise levels and to ensure that your dishes will fit into the ones you are considering. Lastly, once you have finished reading our buyer's guide, we also encourage you to read about how some top products compare against each other in our Best Dishwasher Review.
What to Know Before You Buy
Types of Dishwashers and Dishwasher Styles
First, it is important to determine what size and style dishwasher you need. While most people are shopping for standard built-in dishwashers, the size and layout of your kitchen might be better suited for another style. The different styles available include:
Built-In Dishwashers: The majority of dishwashers sold are standard or tall tub built-in dishwashers. These dishwashers are designed to fit a 24" x 24" x 34" (D x W x H) cabinet opening under your kitchen counter. A standard size dishwasher will be able to fit about 12 five-piece place settings, while a tall tub design can accommodate up to 14 (or even 16) place settings and is a better choice for those with large families or who like to entertain. Prices can range from about $250 to nearly $3,000.
Compact Built-In Dishwashers: If you have a smaller kitchen, you might need to get a compact dishwasher, which is only about 18" wide and can accommodate up to 8 five-piece place settings. These smaller dishwashers are also ideal in secondary kitchen areas. Prices can range from about $400 to nearly $1,000.
Drawer Dishwashers: If you have a really small kitchen or family or if you require a handicap accessible machine, you might want to consider buying one or two dishwasher drawers. The drawers operate independently of each other but can be installed in the same space as a 24" standard built-in or even side by side. If you have limited mobility or issues bending over, drawer dishwashers are ideal because they will be significantly easier for you to load. Prices can range from about $650 to $800 for a single drawer, but some models may only be available in a double drawer design with prices reaching as high as $1,500.
Portable Dishwashers: If you don't have space for a built-in or are renting an apartment or home without a dishwasher, you might consider a portable dishwasher, which doesn't require any installation. These dishwashers come on wheels with laminate tops, so they can easily be stored away when you don't need them or they could even be used as additional counter space. Prices can range from about $200 to nearly $700.
Even if you think you have a standard size cabinet opening for a dishwasher, it is still important to measure the space where the dishwasher will go before making your purchase. You just want to be sure that the height of the opening will accommodate your dishwasher because sometimes countertop height can be lowered for handicap accessibility or you could also lose height if new flooring has been layered over existing flooring. Lastly, if you have a natural stone countertop and are buying a built-in dishwasher, you should consider one with a side/cabinet mount because it will reduce the risk of cracking your countertop.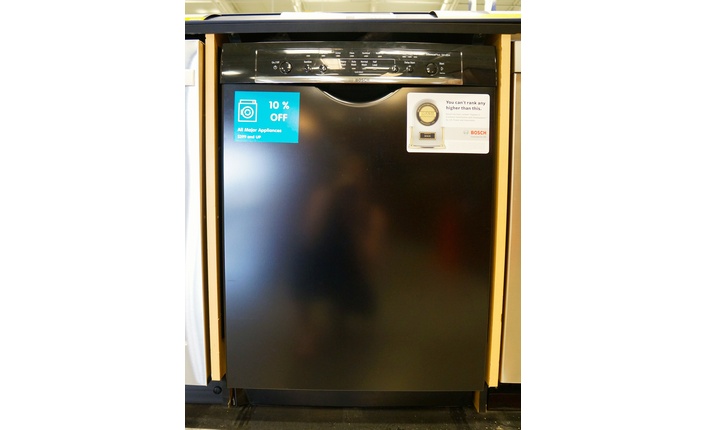 Cleaning Technology
The first major difference you will encounter in terms of a dishwasher's cleaning technology is the type of filter the machine uses. The two choices you will come across are a self-cleaning or a manual filter, and which one you prefer for your home is more of a personal decision. A dishwasher with a self-cleaning filter is designed with a food grinder/disposal. As the dishwasher washes your dishes, the self-cleaning filter will dispose of any food particles in the water so they don't redeposit on items during the cycle. While convenient and effective, dishwashers with self-cleaning filters generally tend to be noisier than dishwashers with manual filters unless they are designed with enhanced insulation, which can add significantly to the overall cost. Manual filters are typically found in European dishwashers (ex. Miele, Bosche, ASKO, etc.), and these models don't require hard food disposals because they feature slightly higher wash temperatures and use increased water pressure to break up food particles. While dishwashers with manual filters are desirable because they are significantly quieter than their counterparts, please keep in mind that you will occasionally have to clean out the filter on your own. However, it has been said that these machine have fewer breakdowns and a more energy efficient operation.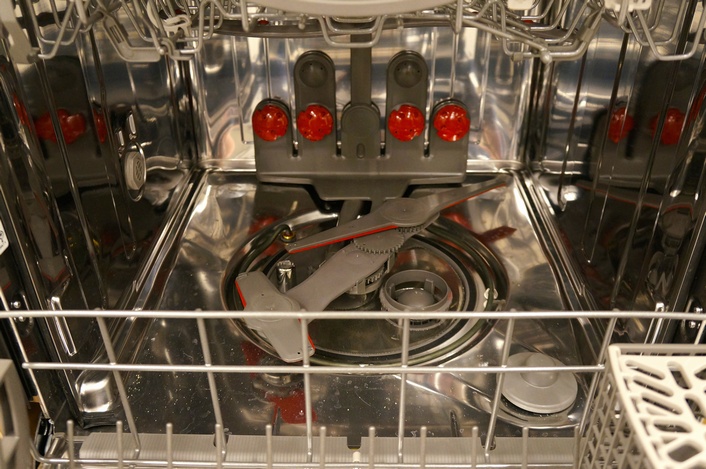 When it comes to noise levels, your best bet is to check the specific decibel (dB) rating on the dishwasher or, better yet, ask for a demo at a showroom. A difference of 3dBA is barely perceptible to the human ear, but some noise levels will seem less obtrusive than others. Below is a helpful guide (courtesy of osha.gov) that outlines typical sound levels: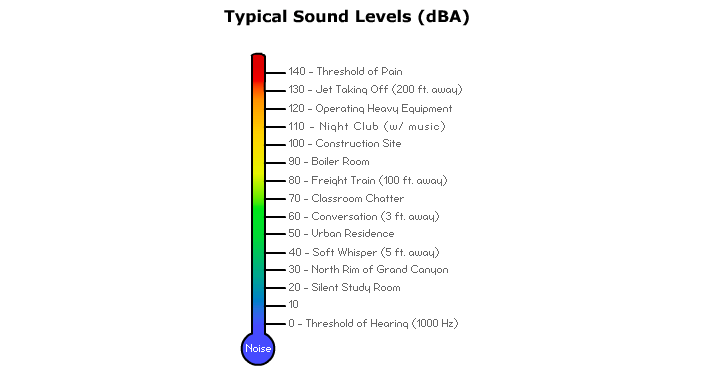 While not usually available on lower priced models, some dishwashers are designed with smart sensors that can measure the size and soil level of a particular load and then adjust the cycle time, water fill and water temperature accordingly. In terms of wash cycles, you can expect even the most basic models to have around 5 cycles including at least a normal, light and heavy wash (for pots & pans). You don't necessarily need more options, but higher priced models can also offer additional cycles for enhanced convenience. For example, some dishwashers have a delicate cycle for fine china and crystal, a turbo option for faster washes or a varying intensity cycle that offers different cleaning powers between the upper and lower rack. Another convenient cycle to have (especially for cutting boards or if you have young children) is a sanitization cycle that will kill 99.9% of bacteria (check for NSF certification). While most dishwashers will have two spray arms located below and above the lower rack, some more expensive models will also have a third spray arm above the upper rack to provide a more thorough clean.

Rack Storage System
When purchasing a new dishwasher, the rack storage system is another aspect to consider if you have some extra room in your budget. A well-designed system will allow you to keep items organized and reconfigure the interior of the dishwasher to increase its overall useable capacity. Removable or adjustable upper racks are helpful when you want to be able to fit oversized or oddly shaped items underneath. Upper racks that feature foldable/adjustable tines, cup holders and/or stemware holders are also especially convenient, while, on the lower rack, helpful features could include foldable tines, split silverware baskets or height-adjustable supports for specialty glassware. Lastly, we'd recommend opting for a rack system that has tines coated in nylon, which is a more durable material than vinyl.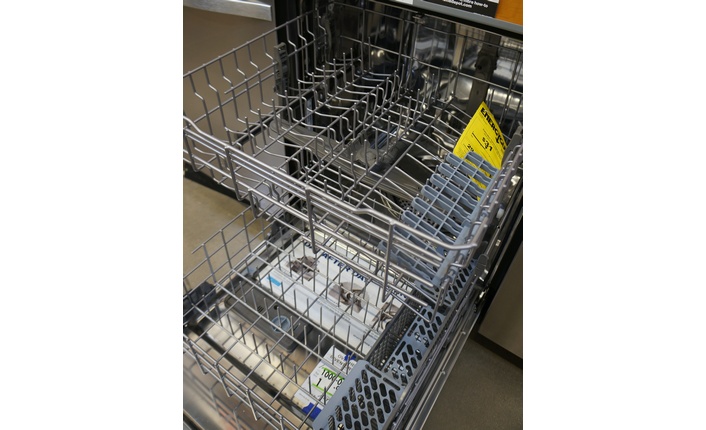 What Features Do You Need?
In addition to the specialty wash cycles discussed above, you may also be interested in dishwashers that have other bonus features (depending on your budget of course!). One feature that doesn't add too much to the overall cost of your appliance is having a stainless steel tub. Very basic models might still have plastic tubs, but stainless steel tubs are more energy efficient, can handle higher temperatures and won't retain stains or odors. If you can't afford a dishwasher with a stainless steel tub, don't worry; a plastic tub still works perfectly well and is durable enough to last the lifetime of your machine. Another helpful feature is having a delayed start option. This allows you to run the dishwasher at a predetermined time in the future and, depending on your model, you can set it anywhere from 1 hour up to 24 hours ahead (higher price models usually offer more options). Another excellent feature to have is anti-leak protection, which will prevent water from spilling onto your floor if there is ever a leak or some kind of blockage in the machine. For enhanced convenience, we also like when the dishwasher has a control panel that features status updates, specifically a minute countdown until the load will be finished. If you have small child, a child safety lock is also an ideal feature because it will prevent little ones from opening the door mid-cycle. Lastly, if you live in an area with hard water, we'd recommend looking for a model that has an automatic water softener built in. Soft water makes detergent more potent and it also reduces etching and fogging of glassware.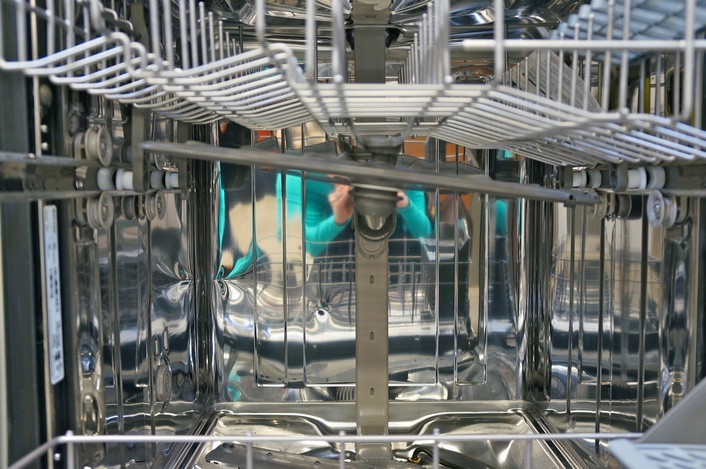 Energy Efficient Dishwashers
Another thing to consider when evaluating similar dishwashers is their energy efficiency as it can have a positive or negative impact on your bank account and on the environment. Anytime you are shopping for an appliance, you'll notice that they are all required to display a yellow EnergyGuide label. This label indicates the results of that particular unit's performance on a standardized Department of Energy test related to its electricity use. The label also provides an estimate of the unit's annual operating costs (exacts costs will vary depending on local utility rates and energy type/source) and compares those costs with similar models. If the dishwasher's EnergyGuide label says the appliance is ENERGY STAR® certified, it means that the dishwasher is an average of 5% more energy efficient and 15% more water efficient than standard models. Another important rating to consider when it comes to energy efficiency is a dishwasher's CEE rating. The CEE is Consortium for Energy Efficiency and it works with the ENERGY STAR® program to highlight models that use 17% less electricity than the federal minimum.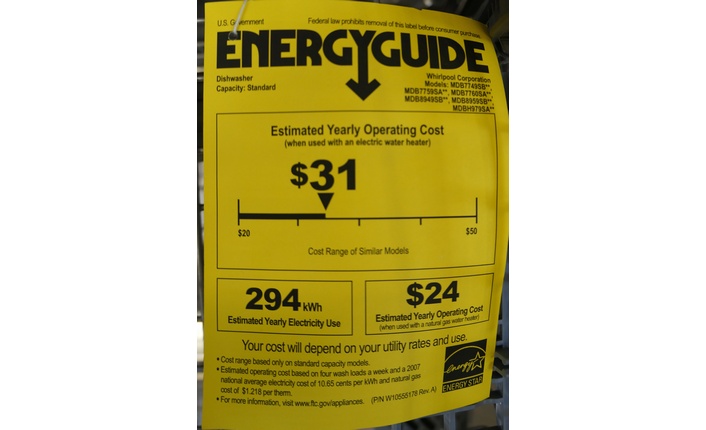 Exterior Style
In terms of exterior style, you'll have two main decisions to make. First, you can opt for a dishwasher with a finish or with a custom panel. In terms of finishes, you are most likely to come across stainless steel, but dishwashers with a black, white or even bisque exterior are also available. If you want a more seamless look to your kitchen, you can opt for a dishwasher that can be fitted with a custom panel to match surrounding cabinetry. The second aesthetic choice you will make on your dishwasher is how you want the control panel to look. You can have a completely exposed control panel on the front of the door (like on traditional models) or you can opt for a control panel that is semi- or fully-integrated (hidden) on top of the door. While some people like front controls, others prefer having the controls on top of the door because it offers a sleeker look and you can see the buttons without bending over.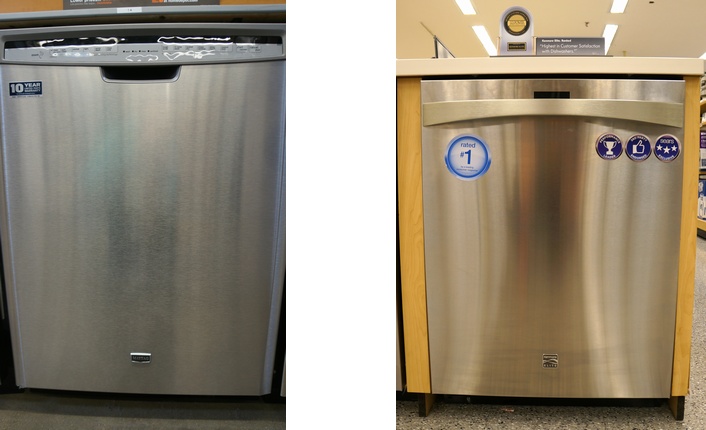 Now that you have a better idea of what you should know before buying a dishwasher, we encourage you to read about how some top products stack up against each other in our Best Dishwasher Review!