Buying Advice: Refrigerators
Refrigerators have advanced significantly in recent years with better, more energy efficient designs and cooling technology, as well as with smarter features and enhanced storage flexibility to help you maximize the useable capacity of your unit. With so many different types of refrigerators available, it can feel overwhelming trying to pick out the one that best fits your household, style and budget without knowing what you are looking for. In order to help you feel more confident for your next refrigerator purchase, we have compiled a guide below that outlines the most important things to consider before you start shopping. Once you have finished reading it, we highly recommend checking out our Refrigerator Overview to see how some of the best models stacked up against each other.
What to Know Before You Buy
What Type of Refrigerator Do You Want?
Refrigerators are either sold as freestanding or built-in. Built-in refrigerators are integrated seamlessly into your kitchen giving it a sleek, high-end look. They come in various finishes or can be fitted with custom panels to match surrounding cabinetry. However, with premium models starting around $4000, a built-in refrigerator might not be within your price range, especially if you are just looking to replace an old refrigerator and aren't doing a complete remodel of your kitchen. Freestanding refrigerators are the more budget-friendly option, and they even come in a counter-depth size, which is designed to look like a built-in. However, keep in mind that these refrigerators are relatively shallow and will have less storage space unless you opt for a wider model.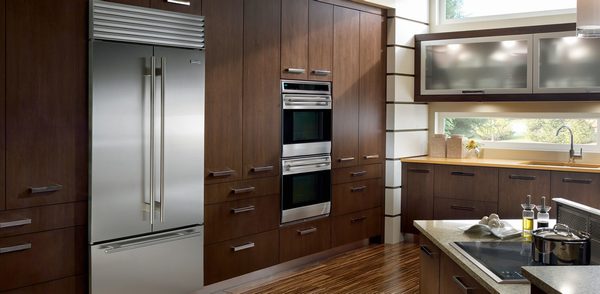 What Style of Refrigerator Do You Want?
Whether you want a freestanding or built-in refrigerator, the next step is to choose between the main refrigerator styles including Side-by-Side, Top-Freezer, Bottom-Freezer and French Door. Again, the best style will depend on the amount of space in your kitchen but also on your personal preference and eating habits.
Side-by-Side refrigerators are designed with the fridge and the freezer next to each other, but the fridge area will have a slightly higher capacity (cu. ft.) than the freezer. Side-by-Side refrigerators are convenient because food items in both compartments are more visible and can easily be accessed by anyone in the family including small children or any disabled family members. A drawback of this style is that the units aren't very energy efficient and have less useable capacity. Also, items in the back of the refrigerator can sometimes be difficult to retrieve and neither compartment can accommodate very wide food items (ex. pizza boxes, platters, etc.). Side-by-Side models start around $800-$900 and are best for smaller kitchens or ones with a narrow galley since the double door design doesn't require as much clearance space.

Top-Freezer (or Top-Mount) refrigerators are more traditional models with the freezer over the fridge area. Top-Freezer refrigerators are great because they are typically less expensive than other models (prices start around $350) and they also have the most useable capacity. Since Top-Freezer refrigerators have full-width shelving, they can accommodate wider food items than Side-by Side models and items in the back of the fridge are easier to access. Some customers dislike the Top-Freezer design because they find it annoying to constantly be bending over to access fresh food items, especially if they don't use their freezer that much. Top-Freezer refrigerators are best for households on a budget that have enough space in their kitchen for a full-length door to open and close. They are also ideal if there is some kind of obstacle in the kitchen (ie. sidewall) near the refrigerator since they are designed with reversible doors.

Bottom-Freezer (or Bottom-Mount) refrigerators are designed with the freezer underneath the fridge and are the most popular style since people generally use the fresh food compartment of a refrigerator significantly more than the freezer. The freezer either opens up like a drawer or its door simply tilts forward to reveal the individual storage compartments inside. As you'd imagine, Bottom-Freezer refrigerators have some of the same advantages as Top-Freezer refrigerators including the convenience of full-width shelving and reversible doors. In general, they tend to be slightly more expensive (prices start around $600) and have slightly less useable capacity than Top-Freezer refrigerators, but they do eliminate the issue of having to bend over to access your fresh food.

French Door refrigerators are an increasingly popular variation of the Bottom-Freezer refrigerator and feature double doors that provide access to the fresh food compartment. While they can be slightly more expensive than other models with prices starting around $1250, many people love the aesthetics of the French Doors combined with the functionality of the Bottom-Freezer design. Customers also like having the ability to open just one door at a time to prevent cold air from escaping. Some French Door style refrigerators have extra amenities, like an external water and ice dispenser, and some even have a fourth door with access to a second freezer compartment or counter-height drawer with adjustable climate controls. Cost is obviously a major drawback of the French Door style refrigerators, but some customers also dislike the design because they found it annoying that you have to open both doors to access any full-width drawers. That said, these are great refrigerators for households who have smaller kitchens or kitchens with narrow galleys but who still want plenty of useable storage space in their refrigerator.
What is the Right Size Refrigerator?
After choosing which style of refrigerator you like, the next most important step in purchasing a new refrigerator is determining what dimensions will fit in your kitchen. While there is no standard-size refrigerator, manufacturers design most refrigerators to fit an opening that is 30″, 33″ or 36″ wide and 66″, 68″ or 70″ high. Taking precise measurements of where you plan on installing your refrigerator will help you quickly eliminate ones that are too small or too big. In addition to the height, width and depth of the area, you also want to determine the amount of space you have for the doors to open and close. Any refrigerator that is at least one to two inches less than your measurements should fit properly in your designated space and allow for enough airflow around the unit.
How Much Capacity Do You Need?
Next, you want to consider how much capacity you'll need. The capacity of your old refrigerator is always a great way to judge whether you need more or less capacity, but there are other guidelines you can use as well. Generally, a two-person household will need around 10 cu. ft. of fresh food capacity and, for each additional person, you should increase capacity by about 1-1.5 cu. ft. Depending on your household's cooking/eating habits, you may need more or less capacity or you may even want to adjust the ratio of fridge to freezer capacity. Keep in mind that a refrigerator's useable capacity can be as much as 20% – 30% less than what is advertised. Also remember that your refrigerator will operate at peak efficiency when it is full, so it is best not to buy a refrigerator that is larger than you really need.
What Type of Refrigeration Technology Do You Want?
A refrigerator's cooling system will have the biggest impact on its price. The least expensive refrigerators generally have a single compressor / single evaporator cooling system, which cools the fridge with air from the freezer. Since both compartments are sharing the same air, you have less control over temperature and moisture levels and there is also the potential for odor transference (ex. ice tasting like leftover Chinese food). If you can afford to spend a little more, you are better off with a refrigerator that has a single compressor / dual evaporator cooling system. The fridge and freezer are both airtight and regulated separately, so you have more precise control over internal conditions. The most expensive refrigerators (ex. Sub-Zero or Miele) will have completely independent cooling systems for the fridge and the freezer (dual condensers / dual evaporators). While these models have excellent temperature performance, they are less energy efficient than dual evaporated cooling systems with a single compressor.
In addition to the cooling system, you want to try to find a refrigerator that has a good ventilation system and multiple sensors to ensure that internal temperature and humidity levels are distributed evenly throughout each compartment. It is also important to have sealed, temperature- and/or humidity-controlled drawers/bins in the fresh food compartment where you can keep food like dairy, meats, fruits and vegetables fresher for longer. While not essential, some refrigerators are designed with quick cooling functionality for the fridge and/or freezer, which is especially handy, for example, if a door has been left open, if you want to flash freeze food (keeps it fresher) or if you are having guests over and want to increase ice production.
What Should You Look for in a Refrigerator's Storage Capabilities?
The internal design of a refrigerator is important because it can help keep your food well organized and easy-to-find. In terms of shelving, you ideally want shelves that have spill-proof edges and that are made with tempered glass, so they are shatterproof and see-through. Beyond that, you want to consider the flexibility of your storage options because it will dictate whether you will be able to accommodate a wider variety of food items. Shelving and door bins that are removable, adjustable and/or retractable are particularly convenient. Door storage should include at least one gallon-size bin, a few bins for smaller bottles (condiments, cans, etc.) and a sealed dairy bin. In addition to any temperature- or humidity-controlled drawers, many refrigerators will have at least one other drawer for enhanced organization and some will even include additional storage options for your convenience like an egg container, wine rack or dedicated beverage holder.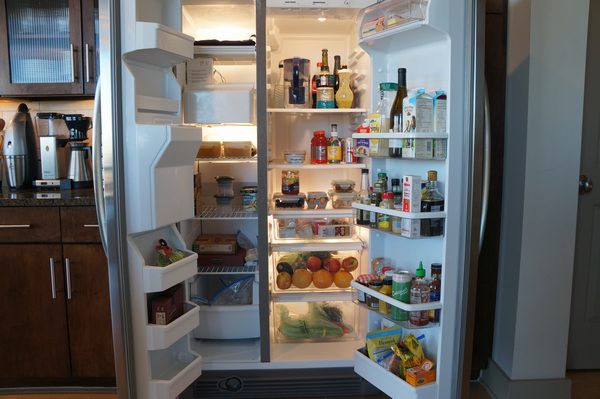 What Extra Features Do You Want?
Beyond the basics above, there are some other convenient amenities to consider when evaluating refrigerators. If your family tends to leave the refrigerator door open, you might want to look for a model that alerts you after it has been left open for a certain period of time and/or when the temperatures have risen too high. Some refrigerators will even shut off the lights automatically if they have been on for too long and the heat could start to negatively impact food. If possible, you should opt for a model with an LED lighting system in the fridge and the freezer because LEDs are more energy efficient and offer more natural light than incandescent light bulbs. While automatic icemakers may sometimes be more trouble than they are worth, a built-in water filter is another convenient feature for refrigerators with factory-installed icemakers, and they are especially great if your unit has a water and ice dispenser. If you like to have a clean, fresh smelling refrigerator, some refrigerators have a built-in air filter, so you can get rid of the box of baking soda, and some even have antimicrobial coatings throughout the interior to fight bacteria and other germs. Depending on how much you want to spend, you can also find other fun features like "smart" technology that helps make your fridge more energy efficient, texts you when your water filter needs replacing, has a built-in tablet with WiFi, etc. Some people may find these features a bit gimmicky and, in our opinion, they aren't really necessary.
How Can You Find Energy Efficient Refrigerators?
When evaluating similar refrigerators, you should also consider how energy efficient the units are since it could have a positive or negative impact on your energy bills (and on the environment!). Appliances are all required to display a yellow EnergyGuide label, which provides the results of the unit's performance on a standardized Department of Energy test related to its energy use. The label will also give an estimate of the unit's annual operating costs (exacts costs vary depending on local utility rates and energy type/source). Lastly, the label may indicate that the refrigerator is ENERGY STAR® certified, which means that it uses 15% less energy than required by federal standards and 40% less energy than the conventional models sold in 2001. You can use this information as you shop, but keep in mind that the higher the overall capacity, the more energy the appliance will consume. Also, Side-by-Side refrigerators typically require more energy than Top- or Bottom-Freezer refrigerators and you should never buy a refrigerator with a bigger freezer than you need because they also require more energy.
What Finish Should You Get?
Refrigerators are available in a variety of finishes, and, if they are built-ins, they can even be fit with custom panels to match surrounding cabinetry. Stainless steel is the most popular finish for refrigerators, but buyer be warned that stainless steel is notorious for showing fingerprint marks. It seems like even customers who realize this fact are annoyed that they are constantly trying to clean off fingerprints. If you like the look of stainless but don't want to be a slave to cleaning it, there are some manufacturers who have come out with a faux stainless finish that is fingerprint-resistant. This finish is also magnetic, so it is particularly well suited for households with small children.
Conclusion
If you are getting rid of an older refrigerator once you buy your new one, please make sure you dispose of it properly. This is very important because refrigerators manufactured before 2000 contain chemicals that are very harmful to the environment. Trash services won't always pick up old appliances, so please consult your local listings to find an appliance recycling company or contact the retailer of your new refrigerator to see if they will dispose of it for free (ex. Best Buy). By law, you are required to remove the doors from the refrigerator before disposing of it, so that no small children could be trapped inside.
Once your new refrigerator has been installed, be sure to vacuum underneath it at least twice a year and wash the interior with bleach to keep it clean and functioning properly. Lastly, keep in mind that a full refrigerator operates more efficiently, so you should try to always keep the fridge and freezer stocked even if it is only just with containers of water.
Now that you have finished our Buyer's Guide, we highly recommend reading our Refrigerator Overview to see how some of the best refrigerators stacked up against one another.