Buying Advice: Coffee Makers
Most households have a morning coffee routine. With so many different coffee makers on the market though, it can be difficult to identify the best machine for your needs and budget. While some traditionalists prefer manual coffee makers, automatic drip coffee makers are by far the most popular style sold in the US. Without getting overly technical, we have done our best to outline the different types of automatic coffee makers available, as well as the most important features to consider to help you make a more informed purchasing decision.

What to Know Before You Buy
Types of Coffee Makers: Manual vs. Automatic
Manual coffee makers provide the greatest level of control over the brewing process and require that water be heated in a separate container and manually poured over the coffee grinds. Manual varieties include a basic drip (pour-over style), the coffee press (French press), the vacuum pot, cold brew system, and stovetop percolator. Manual coffee makers can make excellent coffee and tend to be much less expensive than their automatic counterparts. However, they are also more time-consuming and much less convenient since you are required to be an active participant in the coffee making process.
Since automatic coffee makers are the most popular type of coffee maker sold, they will be the primary focus of the rest of this buyer's guide. As mentioned, the top-selling automatic coffee maker is the basic drip brewer, but single serve brewers are quickly gaining market share. Automatic drip brewers are self-contained machines that provide the greatest level of brewing convenience by heating the water and pouring it over the grinds with the flip of a switch, or by initiating pre-programmed settings.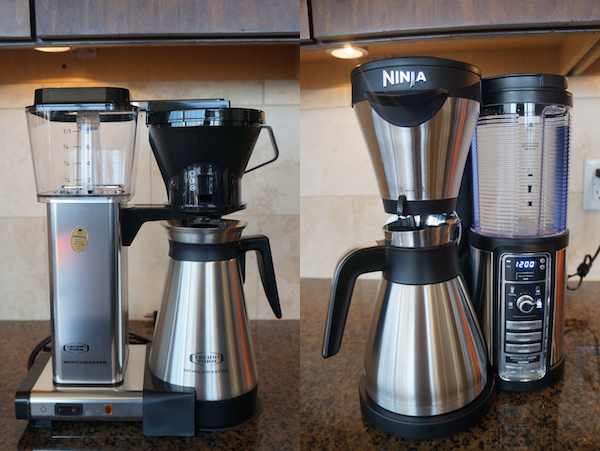 Other automatic coffee makers on the market include the reservoir-style automatic drip brewer, the brew and dispense machine, the siphon vacuum brewer, and the electric percolator. Reservoir-style automatic drip brewers, made popular by Bunn, keep water in the reservoir hot at all times enabling successive pots of coffee to be brewed quickly. Perfect for high volume use, these brewers do require extra energy to maintain optimal water temperature. Brew and dispense automatic drip machines store coffee in a heated, internal tank where it is kept hot and dispensed one cup at a time. The electric percolator, precursor to the automatic drip brewer, continuously circulates or "perks" hot water through the grinds until desired coffee strength is achieved. The siphon brewer uses vacuum technology to draw the hot water up through the coffee grinds and then gravity helps with the filtering process.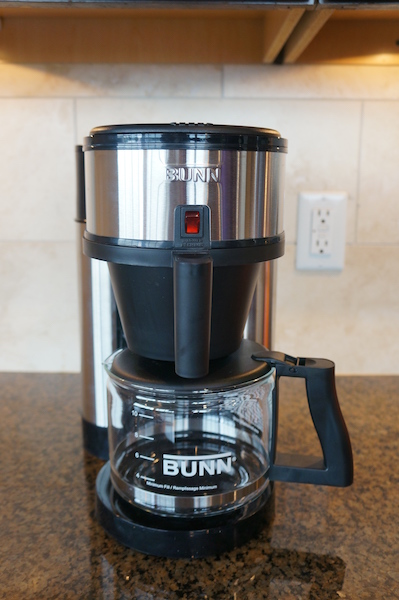 Brewing Quality
When evaluating an automatic coffee maker, it is important to pay attention to the machine's brewing time and temperature, as they are the primary determinants of brewed coffee's quality and flavor. The science of meeting the SCAA (Specialty Coffee Association of America) Gold Cup standard is very precise. Specific parameters around brew time and temperature are required for a coffee machine to achieve optimum extraction and flavor from the coffee beans. According to the SCAA, ideal brew temperature is between 195° and 205° Fahrenheit with water-to-coffee grounds contact time being more than 4 minutes and less than 8 minutes.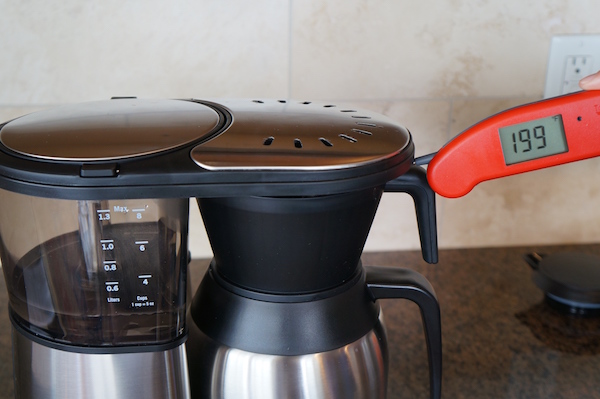 While time and temperature are the most important features determining the brewing quality, another aspect to consider is the shape of the filter basket. Filter baskets can either have a cone shape or a flat bottom. The difference in coffee taste is subtle, but in general, we suggest you opt for a brewer that has a cone-shaped filter basket because water will pass evenly through the grounds to fully saturate them and extract the best flavor. Water can sometimes pass unevenly through flat-bottom baskets, which can compromise the coffee's overall quality. It really depends on your machine however and there are definitely some exceptions. For example, Bunn brewers have flat-bottom filter baskets, but they use a unique brewing system that actually mixes the water and grounds to eliminate any saturation issues.

The type of filter you use might be more of a personal choice, and, if you aren't sure which one you prefer, we'd suggest looking for a machine that offers both a reusable and disposable option. Disposable paper filters provide for an easier clean up than reusable filters, but they aren't quite as cost effective or environmentally friendly. In terms of flavor, disposable filters prevent some of the aromatic oils and finer coffee particles from passing into the carafe. This means the brewed coffee is lighter in body and brighter in flavor. If you prefer a bolder, darker cup of coffee, we suggest looking for a brewer with a permanent Gold Tone coffee filter.
A pre-infusion setting is another feature that can enhance a coffee maker's brewing quality. This can also be called steeping or degassing. When a machine initially saturates the grinds, it allows the coffee to "off gas" or "bloom." This function helps to enable a more complete saturation and extraction of the grounds.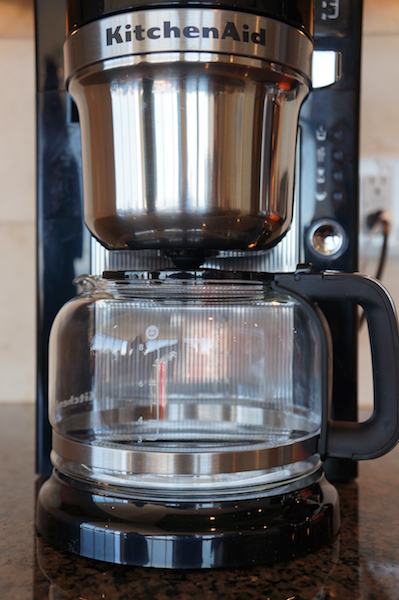 Construction and Design Quality
One feature that can significantly impact the cost of your machine is its heating element, which is responsible for heating the water in the reservoir to the brewing temperature. Heating elements can be made of aluminum (least desirable), stainless steel (desirable), or copper (most desirable). Since the heating element is the most expensive part of a coffee maker, brewers with a copper element tend to cost more. However, they also tend to last longer and more consistently achieve ideal brew temperature.
Full-size automatic coffee makers either feature a glass carafe or a thermal carafe. The glass carafe normally sits on a warming plate that keeps the coffee warm, but also continues to "cook" the coffee, which can negatively impact its quality and flavor over time. If you don't drink your coffee quickly, a thermal carafe is a better bet for preserving flavor and temperature. In general, coffee makers with thermal carafes are pricier, but they are also sturdier in the long run. In addition, many thermal carafes hold their temperature better if you "preheat" them with warm water. This trick is helpful if you are brewing a smaller pot of coffee or want the coffee to stay hotter, longer.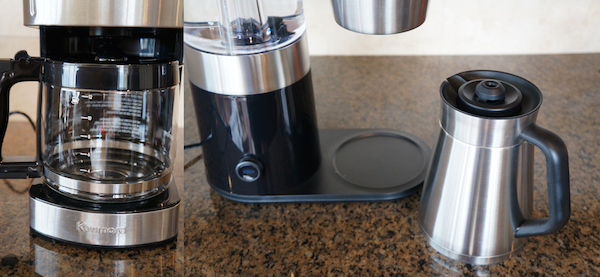 Bonus Features
While more bells and whistles will drive up the cost of your coffee maker, there are a few additional features that can add to the convenience of your machine and be nice to have depending on how you plan on using it. The most popular added feature is a programmable timer for those of you who want to wake up to hot coffee. You can preset the time you want the brewing to begin, and sometimes even the number of cups to brew and the strength of the coffee. If you prefer freshly ground beans, some brewers even have a built-in coffee grinder that automatically measures and grinds the beans based on how many cups you are brewing. A built-in charcoal water filter is also a nice addition to any brewer since impurities in your water will negatively impact the quality and taste of your coffee. Some automatic drip coffee makers feature a brew stop, which allows impatient coffee drinkers a chance to quickly sneak a cup before the full pot has finished brewing. Finally, a machine that automatically shuts off at a specific time or after a certain period of inactivity is another convenience, as well as a safety (and money-saving) feature.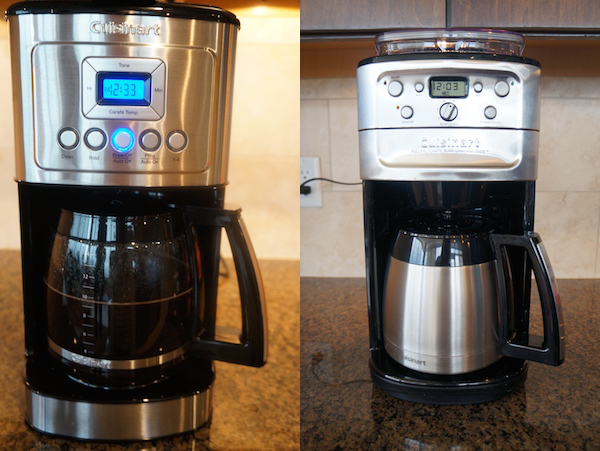 Value
An automatic coffee maker can cost anywhere from about $20 to over $350 depending on the style of coffee maker, the quality of the construction materials, and any additional features. Warranties range accordingly but can be as long as 5 years for the higher-end machines. When checking price tags and warranties, don't forget to factor in the machine's operating costs. For example, while single serve coffee makers are convenient and produce less wasted coffee, these attributes have to be weighed against the fact that K-Cup coffee is estimated to be more than twice as expensive as traditionally brewed coffee. Another example is the increased energy costs associated with Bunn's popular reservoir-style coffee maker that keeps water at the optimal brewing temperature around the clock.
Conclusion
It's important to consider what type of coffee drinker you are. Not only how much coffee you want to brew, but how you choose to drink that coffee. Do you like to have a hot pot of coffee all day long? Or are you primarily a morning coffee drinker? Are you brewing for a full household or just for yourself? The answers to these questions will help you determine what size coffee maker to get, and if you need warming plate technology, a thermal carafe, or an alternative system to keep coffee hot and tasting good.
Once you have determined your budget, think about how you plan on using your coffee maker and you should be able to narrow down your choices significantly. Beyond what has been outlined above, make sure that the size works in your space (especially underneath your countertop), that the style is pleasing to your eye and décor, and that the features and conveniences fit your lifestyle.
For information on the coffee makers tested by Product Report Card's team, please read our Coffee Maker Overview.
If you would like to engage in an in-depth study of brewing, grinding, roasting and cupping fundamentals and the SCAA's certification requirements for coffee brewers, we recommend you visit www.coffeechemistry.com and www.scaa.org for detailed information.