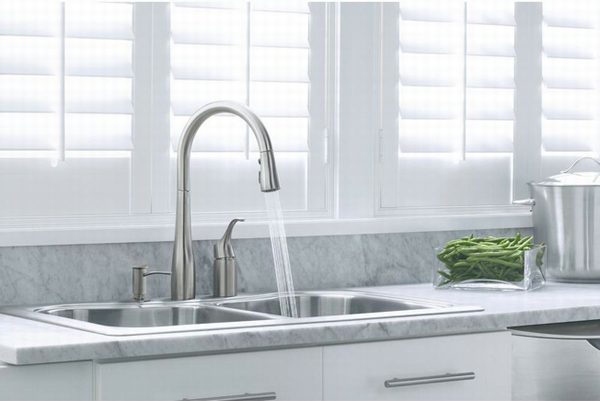 Buying Advice: Kitchen Faucets
When looking for a new kitchen faucet, you want to consider how the faucet fits with your current or desired sink set-up, as well as how it fits within your overall kitchen design. You should also think about what kind of functionality you want the faucet to have (ex. swing spout, handle configuration, sprayer, etc.) and whether you want any other amenities around it (ex. soap/lotion dispenser or a hot water tap). That said, durability is probably the most important aspect of a kitchen faucet to keep in mind when shopping. Since the faucet is used constantly throughout the day, it is essential to have one that is made with high quality construction materials and coated with a finish that resists corrosion and scratching. Buying a faucet can feel like an overwhelming experience, but it doesn't have to be if you know what you are looking for. To help you make a more informed purchasing decision, we have compiled a list of kitchen faucet buying tips below. Once you have finished reading it, we highly recommend checking out our Kitchen Faucet Overview to see how some of the best faucets stacked up against each other.
What to Know Before You Buy
What Kind of Mounting Do You Want? Deckplate, Non-Deckplate or Wall Mount
Depending on whether you are just replacing an old faucet or purchasing a new faucet and sink together, there could be three different mounting options available to you including deckplate, non-deckplate and wall mount. Kitchen faucets mounted on a deckplate feature an escutcheon plate that anchors the spout and handle(s) and covers as many as three faucet holes in your sink. Kitchen faucets with a non-deckplate mount are set up with the parts of the faucet (i.e. spout, handles, soap dispenser) placed separately along the sink and can fill up to five faucet holes. Wall mounted faucets can be mounted just above a sink with no faucet holes or even above a stovetop for filling pots. This mounting style offers the most clearance space for oversized items and makes it easier to clean around the sink and countertops. If you love apron or undermount sinks, a wall mount installation might be your only option since it is particularly difficult to drill faucet holes in those style sinks.

What Kitchen Faucet Will Work With Your Sink?
In addition to complementing the style of your sink and the style of other fixtures in your kitchen, it is also very important that the faucet model you choose corresponds to the size of your current/desired sink and its faucet hole configuration. A faucet that is too large for its sink will look out of place, and you might also have to deal with water splashing out of the sink if it isn't deep enough for the faucet's spout height and water flow rate (more on that below). If you are just replacing an old faucet, you can narrow down your search significantly by taking measurements of your current sink and by checking its faucet hole configuration and the maximum flow rate of your old faucet. If you are purchasing a new sink with your faucet, you should find a sink size/style and mount type that you like, and then think about a corresponding faucet style. You should also decide whether there are any amenities you would like to install (i.e. soap/lotion dispenser, hot water tap, side sprayer, etc.), as this will finalize the number of faucet holes that you'll need in your sink (0, 1, 2, 3, 4 or 5).
What Spout Size, Style and Functionality Do You Want?
As mentioned above, it is important to compare the size and shape of a faucet's spout against your current/desired sink when shopping. First of all, you want to make sure that the spout reaches as close to the center of the sink as possible because it will allow you to reach more of the sink's surface area with water. While an 8" – 10" spout reach will probably work for most normal size sinks, a spout reach of 12" – 14" might be necessary for larger sinks or ones with multiple bowls. In terms of spout height, a standard, low-arch spout (3" – 5" high) is well suited for a smaller sink, but it can get in the way when you are trying to fill/clean large pots. Gooseneck or high-arc spouts (8" – 10" high) are typically better for larger, deeper sinks and provide much more clearance for big pots. Again, to avoid splashing, you just want to be sure that your sink is deep enough to accommodate the faucet's spout height and water pressure. In terms of functionality, we also highly recommend purchasing a faucet that has a swing spout with at least 180° of rotation. It makes it even easier to reach more areas of the sink and allows you to move the spout out of the way when you need to.
What Handle Style Do You Prefer?
Next, you need to determine whether you want a kitchen faucet with a single or double handle. A single-handle faucet can have an attached or separate handle on the right- or left-hand side of the spout or it can have a handle attached to the top of the spout. A double-handle faucet has handles on each side of the spout and uses one handle to control hot water and the other to control cold water. Both styles are available in any mounting option, but a single-handle faucet will require one or two faucet holes and a double-handle faucet will require three faucets holes.
Handle style preferences will vary by customer, but most experts agree that a kitchen faucet with a single handle is not only easier to install than a double-handle one but also easier to operate. The latter is particularly true when the handle is positioned behind the spout because it allows you to use your arm to turn the faucet on and off when your hands are dirty. This style is also ideal if you want less clutter around the sink since it's the most compact faucet available or if you have a backsplash near the faucet that you are worried about hitting if you have a side-mounted handle. Even though double-handle faucets are typically less expensive and offer more precise control over water temperature and flow rate, they are also more likely to leak since you are dealing with two separate valve mechanisms. With all that in mind, our favorite faucet models are ones that have a single handle attached to the top of spout.
Do You Want a Sprayer?
Different faucet models may or may not come equipped with a sprayer, but, if your budget allows, we highly recommend getting a faucet that has one. A sprayer offers additional convenience and functionality because you can extend the reach of the water flow and angle it in any direction, allowing you to reach all parts of the sink. Sprayers can be installed separately to one side of the spout or they can be integrated into the spout in either a pull-out spray head design (low-arch models) or a pull-down spray head design (high-arc models). Pull-out and pull-down spray heads are the most convenient to use, and, so not surprisingly, they are more popular than side sprayers (particular the pull-down ones). Pull-out and pull-down spray heads also don't add to the clutter around your sink and offer more functionality than side sprayers since many models feature a control pad where you can pause the flow of water or adjust it between spray and aerated flow.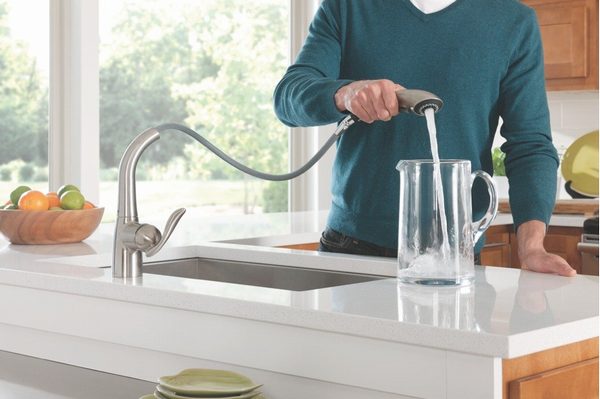 Types of Valves
Unless you are buying a really cheap faucet, most decent faucets feature good valves / faucet mechanisms, but the type of mechanism will differ by manufacturer and model. The four types of faucet mechanisms include compression valves, which have washers, and ball, ceramic disk and cartridge valves, which are all washerless. Compression valves are only found on double-handle faucets, and they are the oldest and least expensive type of valve. In these faucets, rubber washers control the flow of water, but they will eventually wear out and cause the faucet to drip. Fortunately, it is relatively easy to replace them. Ball valves are only found on single-handle faucets. They are easy to maintain and inexpensive to replace, but they are also more prone to leaks than the other washerless style faucets since they have more moving parts. Cartridge valves are found on both single- and double-handle faucets. These faucets will be more expensive than ones with compression or ball valves, but they have a more modern valve mechanism and are generally more reliable and easier to repair than faucets with compression or ball valves. Ceramic disk valves only found on single-handle faucets, and they are the most expensive type of valve mechanism, but they are also the most durable. Manufacturers will typically offer a limited lifetime warranty on faucets with ceramic disk valves since they will have the longest lifespan of any faucet.
Picking a Finish
When picking out a finish for your kitchen faucet, you should consider its durability and the length of its warranty, as well as how well it will fit within your overall kitchen style (compatibility with other fixtures, appliances, cabinet handles, etc.). Cheap faucets will have an all plastic construction, but they won't be very durable, so we suggest looking for a faucet that has a stainless steel or brass construction with a metal finish if you can afford it. Popular metal finishes you will get to choose from include chrome, stainless steel, nickel, brass and bronze. These finishes can have a polished, matte, brushed, satin or oil-rubbed look for additional styling. While matte, brushed and satin metal finishes will adapt to almost any kitchen style, a polished metal finish typically looks great in a modern or retro style kitchen, and an oil-rubbed metal finish has a dark, aged feeling that is particularly well suited for a kitchen with a rustic or antique feeling.
Although it is pricier, we would also recommend purchasing a metal finish that features "PVD" (physical vapor deposition) if possible because the PVD process actually bonds the finish to the faucet and provides it with the highest resistance against tarnishing, scratches and (to a certain extent) corrosion. It isn't available on some styles (ex. oil-rubbed metal and chrome), but it is well worth the extra money if it is an option on the model you like.
Chrome has traditionally been one of the industry's best-selling finishes thanks to its contemporary look, affordability and natural corrosion resistance. It does tend to scratch however, so abrasive cleaning pads should be avoided. Stainless steel and satin or brushed nickel finishes have recently been gaining popularity as well. They have similar textures and appeal to consumers because they have a more subdued brightness when compared to chrome. They also coordinate well with stainless steel appliances and certain models even feature PVD finishes.
There are just two final things that we think you should keep in mind when looking at finishes. First, although many customers love the bright and modern look of polished metal finishes, like chrome, these finishes make water spots and scratches much more noticeable than they would be on a brushed or matte metal finish. Also, if you are leaning towards a bronze faucet, please note that an oil-rubbed bronze finish won't feature PVD because it is meant to "age" and that other bronze finishes without PVD are actually the least durable of all finishes according to Consumer Reports.
Adjustable Flow Rate Kits
If you are worried about saving water/money or live in an area with a limited water supply, you might be interested in a faucet that allows you to have more control over the amount of water you use. Most faucets have a maximum flow rate that is around 2.0 – 2.2 gallons per minute (GPM), but there are some highly rated faucets available with a maximum flow rate of 1.5 GPM. If you can't find one you like, some manufacturers will actually even offer a low flow rate kit that you can purchase separately to adjust the water flow on your preferred model.
Conclusion
Kitchen faucets will range in price from as little as $40 to over $700 depending on the manufacturer and model, but most industry experts agree that you only have to spend a few hundred dollars to get a good faucet. We really don't advise buying the cheaper models because they are much more likely to break, and we also don't suggest buying the most expensive models because they aren't always worth the money. Once you have identified a few of your favorite kitchen faucets, we suggest carefully reading the warranty information for each one since it will provide the best indication of the manufacturers' confidence in the durability of its construction, value mechanism and finish.
Finally, if you aren't working within a strict budget, there are a few extra features that we just want to highlight which aren't essential but offer enhanced convenience. The first is a built-in water filter that provides purified water straight from the tap. Another is hands-free or motion activation technology that turns on the faucet using sensors. It allows you to wash dirty hands without spreading germs and also helps to conserve water and save money. Lastly, we also appreciate it when a faucet has a temperature memory setting that maintains the same water temperature when the faucet is turned on/off and when it has a high temperature limit to prevent scalding.
Now that you have finished our Buyer's Guide, we highly recommend reading our Kitchen Faucet Overview to see how some of the best kitchen faucets compare to one another.